Digital Influencers Marketing Summit 2015 #dimsummit
rnovino
Date: October 10, 2015
Time: 9 AM to 5 PM
Venue: Best Western Plus, Antel Hotel, Makati City
Do you want to become a digital influencer?
Join 100 fellow marketers at this unique conference designed to motivate, empower, inspire, and show you the discipline needed with the use of digital leadership and social media marketing tactics—brought to you by DigitalFilipino.
You will be led by speakers who went through the ropes of making themselves and their brand relevant online. Work with influencers and brand advocates at a totally different level to generate awareness and interest in what you have to offer.
Be consistent and top-of-mind with your customers and prospects. Let your customers define what your product is for them, take ownership, rather than you dictating what you want it to be.
Be empowered to spark participation and make it sustainable. Develop activities and advocacies that will take your brand image to a different level.
The 7th edition of the Digital Influencers Marketing Summit Manila #dimsummit aims to empower entrepreneurs, marketers, and advertisers with insights on working with influencers and brand advocates.
It is an ideal conference for current and aspiring influencers, thought leaders, and recognized brand advocates.
Attendees to this event can expect a highly-interactive session with digital marketing practitioners. Session starts at 9 AM with the introduction of event participants as a warm-up to the event.
Why you should attend this event?
#1: Learn what works and sucks. Although one can learn from practice, you can also save time and effort learning from other people's mistakes. Our line-up of speakers are those that despite their limited resources – were able to make a difference for themselves and the markets they serve. We like our participants to be inspired by them, gain insight, and reflect on their own digital influencer potential.
#2: Be updated. Learn new ways of working with influencers, lifecycle marketing tools, and technologies online.
#3: Network. Meet digital influencers, emerging influential bloggers, brand advocates. Bring your business card, personal pitch, and connect with fellow participants.
#4: Be part of the community. For 2015, we are launching the Digital Influencers Network where participants can continue the learning journey, get coaching from Janette Toral, and have a venue to build your "digital influence".
#5. Invest in "building your digital influence" at an affordable fee. Instead of paying twelve thousand pesos (P12,000), pay only for this event with one year membership in our "Digital Influencers Network".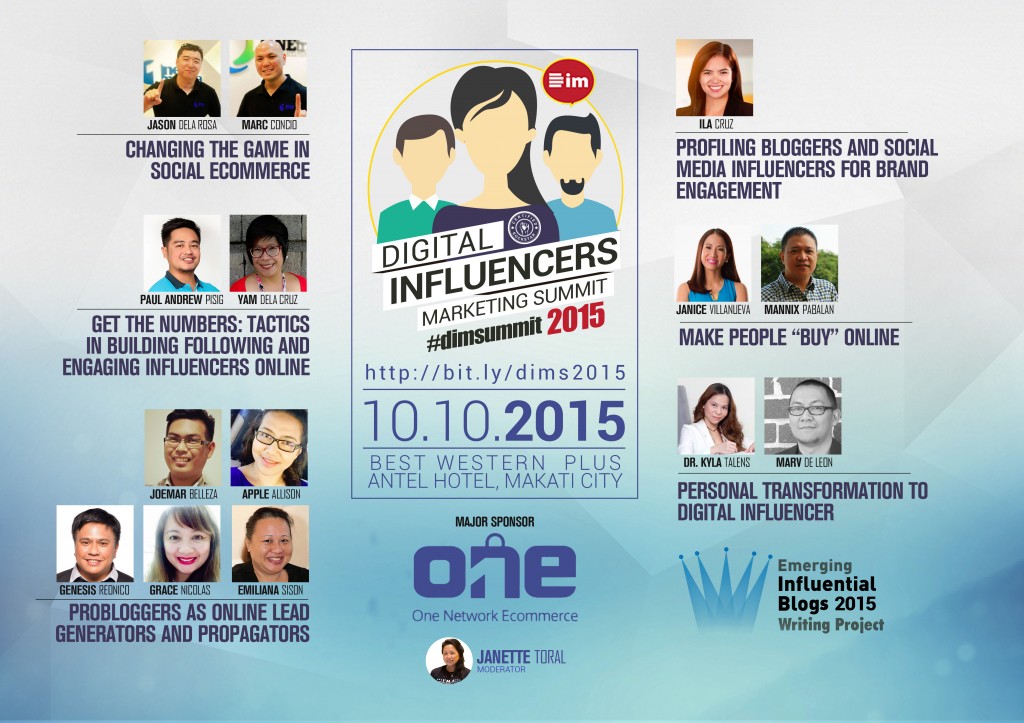 EVENT DESCRIPTION
In this event, learn how practitioners are building their digital influence to strengthen their branding and identity, sustaining their business and projects, converting strangers to customers and brand ambassadors.
EVENT LEARNING OBJECTIVES
Market positioning and explore collaboration opportunities.
Roadmap to digital thought leadership.
Getting your money's worth in digital marketing efforts and results derived through it.
Learn how to build a customer engagement blueprint that works.
Meet emerging influential faces in blogging and social media.
SPONSORSHIP OPPORTUNITIES
We would like to thank One Network ECommerce for supporting this event as a major sponsor.
Many thanks to Alfox Printing and Infinity Hub for supporting this event. We are currently looking for sponsors to support this event.
Agenda
With the changing behaviors of Filipino Netizens and social media platforms, building organic following today is not as easy anymore. Yam will share strategies on building your numbers organically.
Whether you are asking people to avail of your promo, download an application, sign-up for membership, some will ignore your call to action while others respond overwhelmingly.  Learn what works in digital marketing to influence people to heed your call to action.
Building your personal brand and have an effect to your business or advocacy is not an easy task. It requires commitment, patience, and discipline. In this session, speakers will talk about their personal journey with the intention of inspiring others in their journey.
With a growing number of services providers wanting to offer e-commerce solutions, a question often asked is "what makes your platform and service different?" E-Commerce veterans Jason Dela Rosa and Marc Concio harnesses the influence of celebrities, affiliate marketing, networking, distribution systems to come up with a game-changing and disruptive B2B2C2C Social eCommerce platform.
LUNCH
If you made a big mistake or actions misunderstood, an incident can either get ignored, be limited to a few, or blown out of proportion. The real test for any digital influencer is how they handle such challenges and overcome.  This session will discuss what actions can be taken to arrest the situation and recover.
The role of bloggers in the commercial sphere in changing. From being tapped to do event coverage, blog post, reviews, some have ventured into more entrepreneurial activities such as selling products, joining affiliate programs, blog networks, and lead generation programs. In this session, panelist will share their experience, what works and what doesn't, and how can bloggers thrive.
TOP 10 EMERGING INFLUENTIAL BLOGS for 2015
Blogs, as chosen by participating bloggers in the writing project, will be recognized in this session. Each blogger will give a quick talk discussing what made their blog click.
RAFFLE / GROUP PHOTO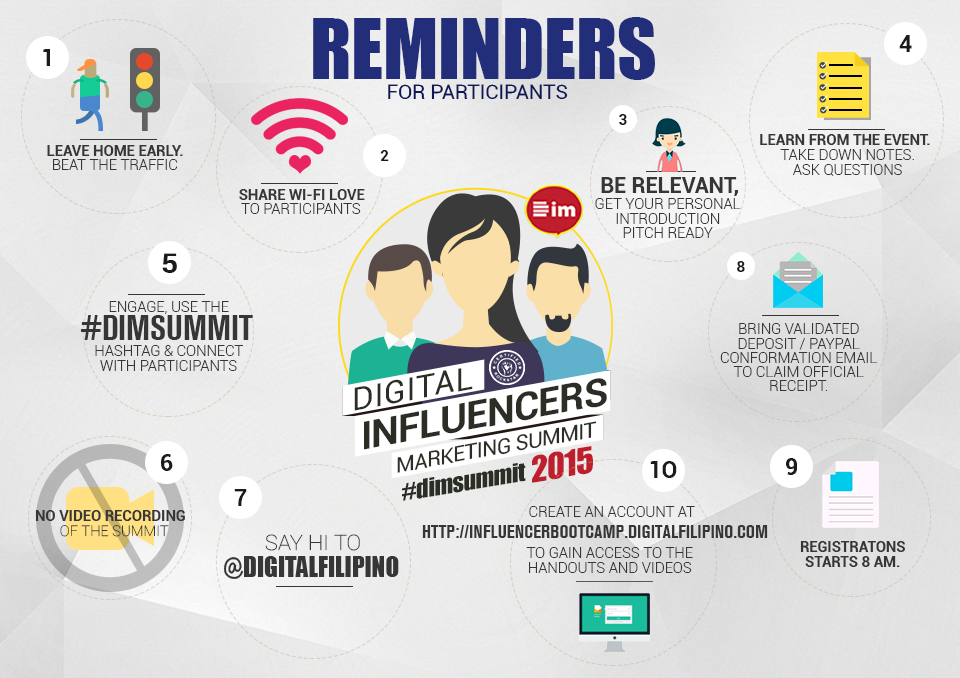 REGISTRATION:
The early bird rate for this event is P5,000 valid until September 30. The rate of P5,500 shall apply from October 1 to 9. Walk-in rate is P6,000.
Register 5 participants and have 1 participant included free.
Register 10 participants and get a table space at the event where you can show your wares.
Student rate is P2,500. They must register as a group of 10 and must make a one-time payment.
Note that iMarket Events and Services Inc. will issue an official receipt to recognize your payment on October 10, 2015.
For inquiries about this event, contact Janette Toral at 0917-4490011. You can also contact Jennifer at 506-2048 or 0917 8133680.  You can also email jenniferchua@imarketevents.com or info@imarketevents.com.
PLEASE FILL UP THE FORM BELOW IN ORDER TO RECEIVE AN EMAIL BILLING.